2017 was INSANE. 2017 was insane and I felt outside of my mind most of the year. But 2017 was also filled with incredible moments. The incredible, warm moments outweighed the crazy and stressful times and for that, I am thankful. This is just a quick highlight of my year, personally and professionally and I hope you enjoy this line up.
Magic. This moment was pure magic. Chris and Libby held their wedding at Catherine's Terrace on Santa Catalina Island. Descanso Beach is backed up to the canyon that is heavily wooded on the island and houses Descanso Beach Club, Catherine's Terrace and a zip line for the more adventurous island goer. This was hands down, one of the most picturesque ceremony sites I have ever photographed and the "uninvited guests" melted our hearts. The ceremony had concluded and we were just finishing up portraits of the bridal party when two deer slowly and very quietly emerged from the hills. These four legged friends were clearly regulars at Descanso Beach Club weddings and knew just who to target. The Bride. The Bride was carrying the most beautiful luscious bouquet/dinner and the deer was determined. She was not shy and she was almost pushy. Chris ended up taking the bouquet from Libby after we sensed the friendly creature was not backing down and we relocated up the hill while the deer settled for the yummy palm frond arch. I'll never forget it.
Gretchen and her newest little love gave me all of those butterflies. This sweet moment needs no explanation. #sigh
Tracy Dwyer is in the process of writing two fitness books, is buffer than buff and just turned 60. She is a truly kind hearted individual whose passion and drive inspires so many. I am incredibly thankful that we crossed paths this year. I feel like a stronger person just knowing and being around her. Stay tuned for my upcoming blog post on Tracy!
Jason and Lauren met in high school when in Europe on a School trip (different schools, different states!) and maintained a long lasting friendship so deep that it weathered many years apart and many personal changes only to bring them full circle to marriage...THIS WEEKEND! This incredibly kind, funny couple took me to Michigan with them to Uncle John's Cider Mill to capture their engagement session. We wandered the corn mazes, thumped pumpkins in the crazy huge pumpkin patch and hung out in the apple orchard where all of the cider magic is born. This California girl was in Authentic Fall Heaven. In a short period of time, I've met and created a friendship with Jason and Lauren enough to confidently feel that this image is them. As we sat and munched on donuts and sipped cider while we waited for the sun to set a bit, they giggled and chatted and this was one of my favorite moments of the trip. This is the picture I will have in my head when I jump head first into capturing their wedding this weekend. I can't wait!
Little James may not know he's ready, but he will be soon enough. Mom and Dad say that he is not entirely grasping the fact that there will be a new little life in the house and that is okay. We are all excited enough for him and I know that Mom and Dad are going to make the transition a good one. Two of my best friends in the world (Amanda, mummy to James) and my college roomie are both warming up baby #2 and are due very soon. Its going to be a year full of new babies! Maybe that is why I am feeling so good about 2018! So much new love to come!!!
Andrew blew Heather away by surprising her with an early morning proposal on Bolsa Chica Beach. I actually think he may have surprised himself a little bit...he was definitely overcome with excitement as you can see. I was shooting and weeping a bit and trying to keep it together. Andrew's surprise proposal was featured on How He Asked by the Knot. I'll be capturing their wedding this March and I am so looking forward to more excitement and emotion from this handsome young gent.
Daniela, Tommy and Briella celebrated together this May at the Hyatt Regency Mission Bay, in San Diego. This was immediately my favorite image of their wedding, because to me, it says it all. I adore the way that Daniela and Tommy honor their love for each other and their love for Briella by incorporating their precious little baby in their ceremony. Daniela and Tommy are over the moon in love with Briella and have told me that their little daughter has done nothing but enhance and bring joy to their lives. It is so apparent here. I'm such a sucker for crazy obsessed parents. Cue the ugly cry over here behind this computer screen.
I was fortunate enough to photograph one of my dear friend's family portrait in honor of her Grandfather's (pictured here with Grandma) 90th Birthday. Not pictured in this image are their three children, 6 grandchildren and 8 great grandchildren. After we shot the large extended family portrait, I got Grandma and Grandma alone for a moment and wasn't entirely prepared for their personalities to shine so brightly. Grandpa's 90, right? Right. But he was so completely tuned in. I asked that old question that most of the adult population really truly wants to know...simply, "What is the secret to your marriage?" Without skipping a beat, Grandma says, "Neither of us would take the kids." This image was the very moment after that statement and Grandpa was bursting with laughter. Grandma was pretty satisfied with her answer as well. So was I. I'll carry this little piece of advice with me until I'm in my 90's, especially if I end up having children.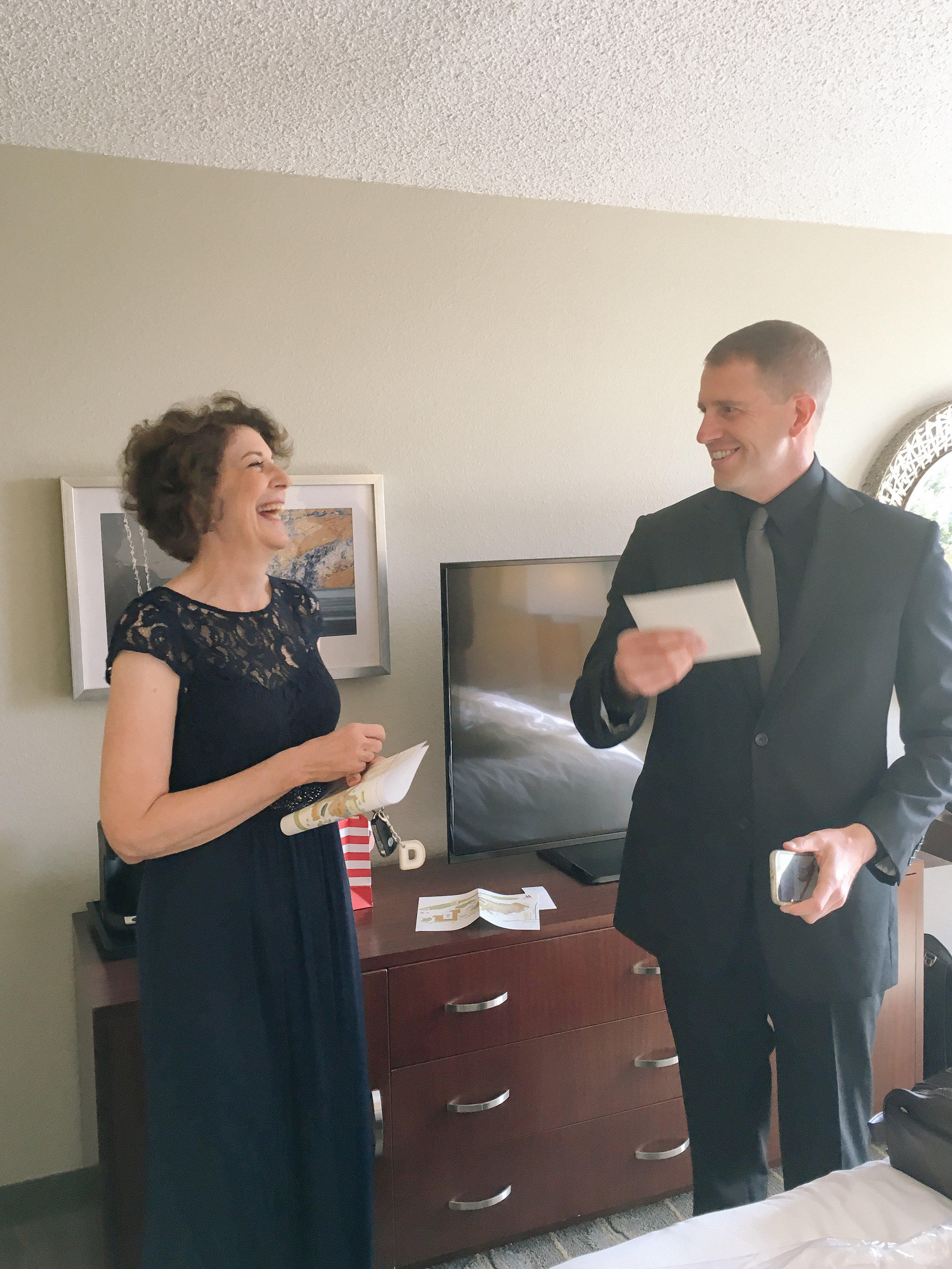 This is the only image in the top 10, that I did not take. This image was taken by my husband's good friend, Dave Salinas (we love you, Dave), moments before the guys left the hotel to head to our ceremony. There was a communication breakdown and our photographer wasn't able to make it over to my husband to capture the getting ready photos I was really hoping for. Things happen. Weddings never go according to plan. Our wedding, however, was near perfect to us. We woke up the next morning feeling like the day was more than we could've asked for and our friends and family were the reasons why. The morning after the wedding, Dave emailed us a couple dozen smart phone pics. That email contained this image and I was giddy inside. A moment that I will probably never understand, but one that I will cherish, because of the happiness shared here between Ian and his mom. I can't tell you, Dave (if you're reading this), how thankful I am for you and all of your photography. Oh, also for leaving your family in Switzerland on your birthday to come celebrate with us. That too.
This is my mom. She is the reason for everything. I love her so and I love her because of this. If any of my other professional photographer friends can say that their mom busted out a disposable camera while you were getting ready for your very own wedding, please raise your hand. Probably not too many of you. If you had this experience, you might just understand what makes my mom so special. She's the best. That's where I'll leave it.